[rev_slider alias="diving-banner"][/rev_slider]
Scientific Diving
HIMB facilitates scientific diving activities by UH faculty, students, and visiting scientists. Dive training courses are offered annually to UH scientists and students to support their research. Combined with a small research fleet of boats, the training, services, and equipment of HIMB Diving facilities allow for the planning and completion of research projects in most ocean disciplines.
HIMB COVID-19 Field Safety Guidelines
UH Scientific Diver Requirements
The University of Hawaiʻi is an Organizational Member of the American Academy of Underwater Sciences (AAUS) and complies with the national diving standards set by this agency. Divers looking for authorization to conduct research using compressed gases must complete extensive requirements including the 150-hour Scientific Diver Qualification Course, which is offered through the UH Mānoa campus and at HIMB. Divers already accredited and in current status through another AAUS institution may be eligible for reciprocity.
All proposed diving activities under the auspices of UH require prior approval from the UH Diving Safety Program. UH scientific divers are also required to follow protocol as outlined in the UH Diving Safety Manual and submit a monthly dive log to the UH Diving Safety Program. All forms and additional information can be found at the UH Diving Safety Program (see the UHDSP website).
Training
HIMB Scientific Diver Qualification Course
HIMB offers a three-week intensive Scientific Diver Qualification Course (SDQC) each summer. The HIMB SDQC course runs weekdays from 8 a.m. – 6 p.m. This course includes NAUI Rescue Diver, NAUI Master Diver, and NAUI Nitrox certifications as well as the DAN Diving First Aid for Professional Diver certification and authorization as scientific diver in the UH Diving Safety Program. Divers learn a wide breadth of rescue techniques, search and light salvage techniques, navigation, habitat assessment and quantification, night and deeper diving considerations, and boat diving techniques. This course prepares students for all facets of research diving that they may encounter for their respective projects.
In keeping with the training requirements of the American Academy of Underwater Sciences and UH policy, the UH Diving Safety Program does not offer training to the general public.  The UH Scientific Diver Qualification Course (SDQC)  is considered employer-provided occupational safety training, and is generally only open to UH faculty, staff and students who need it to complete their official UH research or educational activities.   In rare circumstances, UHDSP will accommodate scientists from partner AAUS or state or federal agencies, with the approval of the agency's diving safety control board.
Equipment
The HIMB dive locker maintains SCUBA and breathing air equipment for use by authorized divers in the program. Our Bauer air compressor air quality is tested semi-annually to CGA Grade E Modified for Oxygen Compatibility standards (see current results). The dive locker SCUBA cylinder inventory includes various sizes of aluminum and steel cylinders for use with air and nitrox mixes.
Our facility has the ability to:
Partial-pressure blend standard and custom nitrox and decompression gas mixes
Fill rebreather oxygen and diluent cylinders
Fill emergency oxygen kit cylinders
---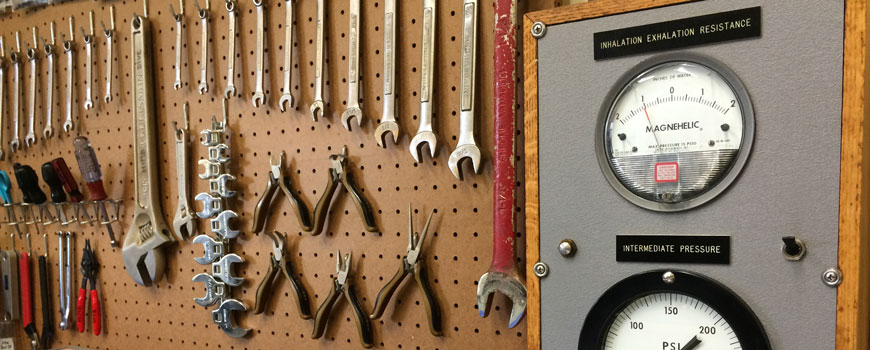 ---
We have dive equipment available for rent by visiting and in-house researchers, including:
Oceanic OceanPro, Hollis Enviropro, and Aqualung buoyancy compensators
Apeks and Oceanic stage regulators
Nitrox-programmable dive computers
Gas analyzers, dry boxes, reels, lift bags, weights, etc.
The dive locker also has the necessary test equipment to provide the annual service required by the UH Diving Safety Program for most manufacturer's buoyancy compensators, regulators, and computers/depth gauges.
We also have DAN Emergency Oxygen Kits available for use in Kāneʻohe Bay or for extended excursions.
Prices
---
---