[rev_slider alias="boating-banner"][/rev_slider]
Boating Facilities
HIMB COVID-19 FIELD SAFETY GUIDELINES
Research Skiffs
For work within Kāneʻohe Bay, there are four 17′ Boston Whalers with Honda 40 hp outboard engines. For work outside Kāneʻohe Bay, there is a 22′ Boston Whaler Outrage with twin Yamaha 90 hp outboards and a 22′ Boston Whaler Guardian with twin Yamaha 115 hp outboards.
Operator Requirements
All HIMB operators are required to successfully complete an approved State of Hawaii NASBLA boating and safety course. See the State of Hawaii, Division of Boating and Ocean Recreation website for details and a list of approved courses. Hawaii State Mandatory Boating Certification.  HIMB currently recommends the BoatUS web-based course (www.boatus.org) as it contains Hawaiʻi State-specific information and is free of charge.
An on-water skills checkout is required prior to authorization to operate HIMB vessels. This checkout includes an overview of the reservation and checkout procedures at HIMB, a review of USCG required equipment, docking and handling skills, ATONS and natural navigation in Kāneʻohe Bay, anchoring, and crew overboard (COB) procedures. The duration of the checkout varies depending on prior experience.
Training
HIMB offers formal boat training opportunities in conjunction with the US National Oceanic and Atmospheric Administration (NOAA) and US Department of Interior (DOI) several times each year. These certifications are often required when operating from NOAA and DOI resources in the Hawaiian Islands and the Papahānaumokuākea Marine National Monument. We currently co-teach the NOAA Advanced Coxswain Training (ACT) course and the DOI Motorboat Operator Certification Course (MOCC). Space is very limited in these classes and is given on an as-needed basis. Please contact the Marine Safety Officer if your research requires these certifications.
Prices
Minimum charge is 2 h
Additional charge for operator
22' Boston Whaler Outrage
---
Minimum charge is 2 h
Additional charge for operator
22' Boston Whaler Guardian
---
Minimum charge is 2 h
Additional charge for operator
---
---
Support Vessel
Passengers and cargo are transported to and from HIMB on the 40′ Honu Kai. The Honu Kai is capable of handling loads up to 10,000 pounds and is manned by designated HIMB employees. Groups of more than 20 are required to use the Honu Kai ferry during their initial arrival and final departure.
This vessel is also available for scientific research and educational project support, including plankton tows and other activities.
Advance notice is required to schedule the Honu Kai. Please email us.
Prices
Round trip to/from Heʻeia Pier
Weekdays (Monday-Friday)
Minimum charge is 2 h
Weekends (Saturday-Sunday) and evenings
Minimum charge is 2 h
*Add 2 hours for prepping/cleaning the boat
---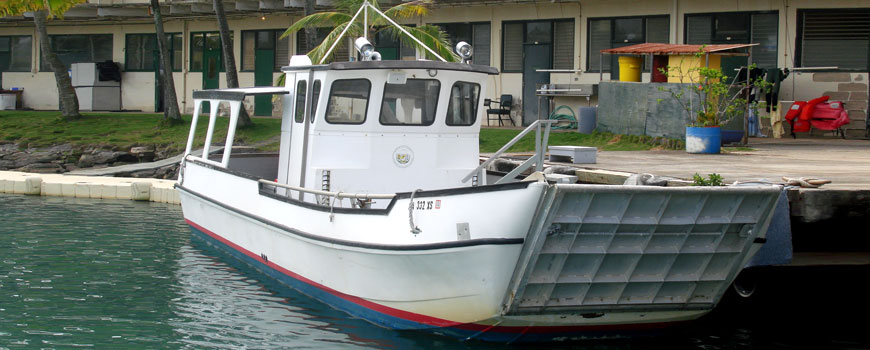 ---