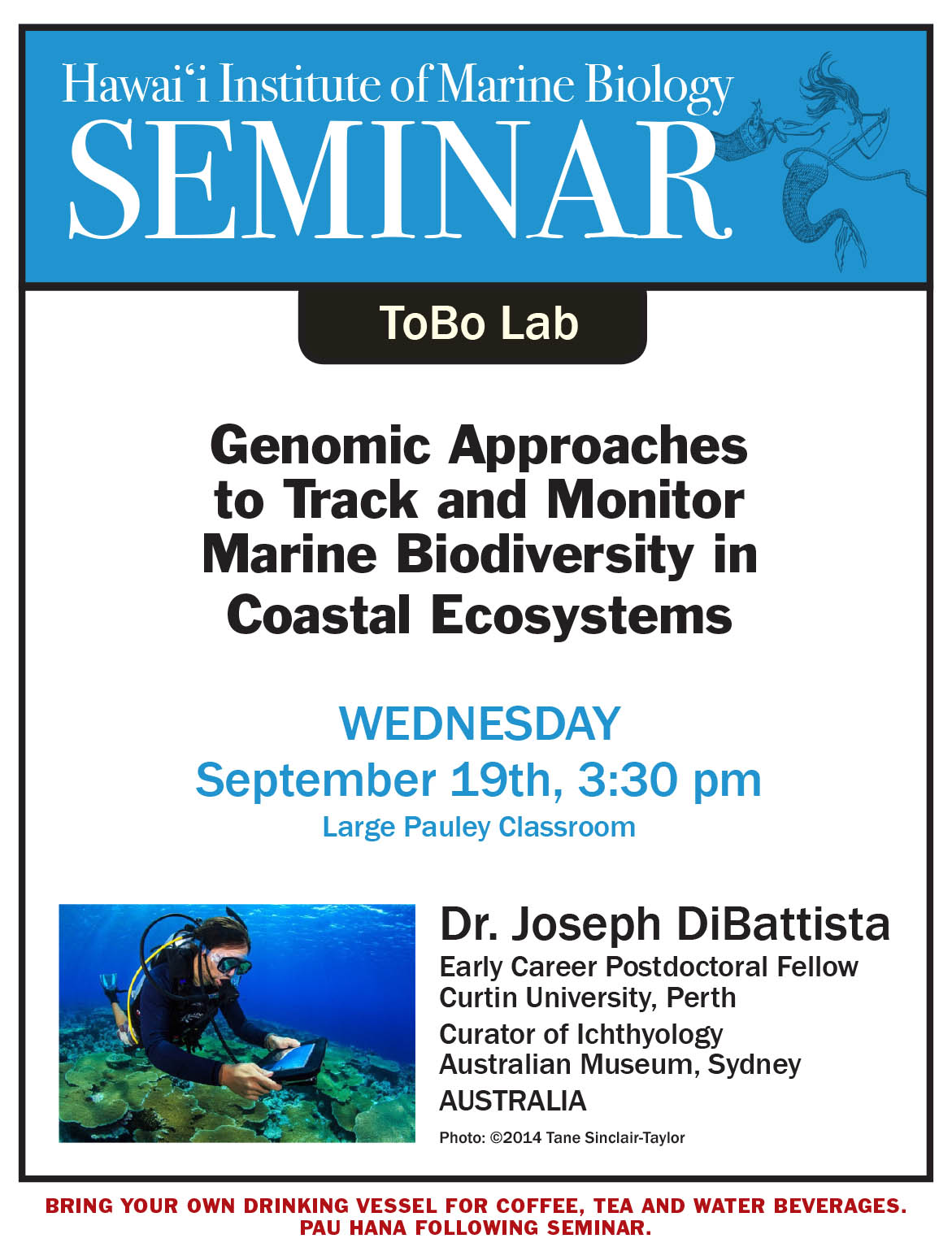 Abstract
Biodiversity plays a critical role in the resilience of natural systems, and there is a directed effort towards understanding current threats to biodiversity (e.g. climate change). The emerging field of environmental DNA (eDNA) is transforming our approach to how we assess biological diversity and ecosystem function. eDNA is used to describe DNA shed from secretory processes such as the sloughing of skin, scales, mucus, eggs, sperm, blood, or defecation, and can be used to provide a record of a species presence. When combined with recent advancements in next-generation sequencing (NGS) and bioinformatics, the diversity of organisms from environmental samples that contain mixtures of DNA signatures can be recovered. As such, eDNA metabarcoding can provide a wealth of information for studies of biodiversity, food web dynamics, diet analysis, and for environmental and invasive species monitoring. I will highlight studies in a number of coastal marine ecosystems based on the development and application of eDNA metabarcoding for studying marine biodiversity across spatial and temporal scales, the analysis of stomach contents to understand fish diet and the trophic levels of marine taxa, and also methods development around laboratory protocols and taxonomic assignments. I additionally highlight how these advances might be incorporated into existing or new marine monitoring programs that aim to protect oceanic resources.
About Dr. DiBattista
Dr Joseph DiBattista is an Early Career Postdoctoral Fellow (ECRF) at Curtin University in Perth and the new Curator of Ichthyology at the Australian Museum in Sydney via a joint appointment. He holds a PhD from McGill University in Montreal, Canada, completed an NSERC postdoctoral fellowship at the Hawai'i Institute of Marine Biology (HIMB), and a postdoctoral position at the King Abdullah University of Science and Technology (KAUST) in Saudi Arabia. During this time he has organized and/or participated in over 60 research trips, starting in the Western Atlantic Ocean and more recently moving into the Indo-West Pacific. His current research is focused on understanding the origins of reef fish biodiversity and how it is maintained using a combination of traditional and next-generation sequencing approaches. He is particularly interested in exploring new ways to track monitor and monitor environmental shifts in our oceans with environmental DNA (eDNA).