Behavior of Sharks Associated With Cage Dive Ecotourism
Principal Investigators: Carl Meyer & Kim Holland
Project Overview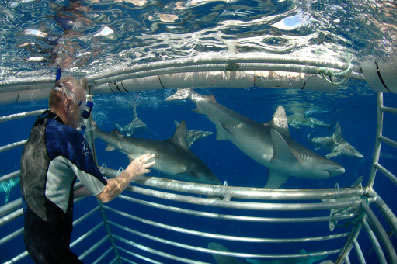 Figure 1. A snorkeler inside a floating cage views Galapagos sharks off Haleiwa, Hawaii.

Concern exists that commercial shark cage diving conducted 3 miles offshore from Haleiwa Harbor increases the risk of shark attack on swimmers, surfers and divers along the North Shore of Oahu (Hawaii). Much of this concern is based on the belief that sharks associated with these commercial tours follow the tour boats back toward shore whenever the boats leave their offshore operation sites. We are using cutting edge technology to track the long-term movements of sharks captured at the cage diving sites and evaluate the public safety implications of these operations.
Research Questions
We are addressing the following specific questions:
How often do sharks visit the cage diving sites and how long do they stay?

How often do sharks captured at the cage diving sites come into shallow inshore areas utilized by swimmers, surfers and divers?
Do sharks follow the cage diving boats back toward harbor?
How far do sharks that visit cage diving sites range?
| | |
| --- | --- |
| Figure 2. Galapagos shark (Carcharhinus galapagensis). | Figure 3. Sandbar sharks (Carcharhinus plumbeus). |
Methods
We captured 36 sharks (Galapagos and sandbar sharks) at cage diving sites and surgically implanted them with small ultrasonic transmitters. We stationed underwater listening stations (acoustic receivers) at the cage diving sites, at the entrance to Haleiwa harbor channel and at surf breaks along the North Shore of Oahu. We are using this system to remotely track shark movements at multiple locations along the Hawaiian archipelago. The system consists of small, underwater receivers that listen continually for the presence of sharks implanted with coded pulse acoustic transmitters (within a detection range of up to 1000m). The receivers are periodically retrieved by divers and downloaded to find out which sharks have visited, when they came and how long they stayed at each location.
| | |
| --- | --- |
| Figure 4. Biologists implant a captured Galapagos shark with an acoustic transmitter. | Figure 5. SCUBA divers deploy an underwater listening receiver off Haleiwa. |
Results
Galapagos and sandbar sharks are the most common species seen at cage diving sites (98% of all sharks observed). These species are rarely implicated in attacks on humans. Sharks remain at cage diving sites throughout the day and disperse at night. Sharks that visit North Shore cage diving sites also migrate seasonally to deep waters off the West side of Oahu, and range as far afield as Maui and Kauai. Inshore movements by sharks associated with cage diving operations are extremely rare. There is no evidence of sharks following boats back to the harbor. There is no evidence indicating Haleiwa shark cage diving operations are a threat to public safety.
| | |
| --- | --- |
| | Figure 6. Trends in abundance of Galapagos, sandbar and tiger sharks at ecotourism sites off Haleiwa (Oahu, Hawaiian Islands, USA), 2004–2008. |
Project Publications
Meyer CG, Dale JJ, Papastamatiou YP, Whitney NM, Holland KN (2009) Seasonal cycles and long-term trends in abundance and species composition of sharks associated with cage diving ecotourism activities in Hawaii. Environmental Conservation. 36: 104–111